Eastpak Leatherface 2-Wheel Duffle Bags
Large Duffel bags with wheels and telescopic handle so they can be pulled just like suitcases, the telescopic handle pushes away neatly and can be concealed by a zipped pocket when not in use. The bag features holdall style handles with padded carry handle, this handle can be locked with Eastpaks own TSA LOCK-IT lock, there is also a padded carry handle on the top of the duffel bag. The exterior features 3 zipped pockets. The main compartment has a U shaped opening and is double zipped so can be locked with a padlock if required, there is also a secure zip pocket inside. Available in 7 different colours.
Click Here For Eastpak Spinners Prices & Availability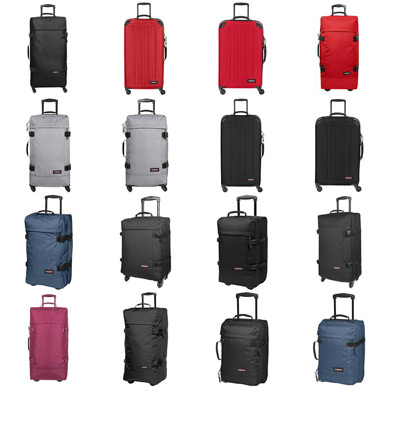 Eastpak Trans4 Suitcases
The Trans4 suitcase has 4 large 360 degree spinner wheels ensuring smooth and easy transportation. There are padded carry handles and a push button telescopic pull handle. Exterior compression straps keep the case secure and all belongings tightly packed. Inside are 2 main compartments which are separated with zipped doors. The rear has large plastic feet so the case can be put down flat, there is also an interior pocket and an exterior zipped pocket on the front of the case. Trans4 Suitcases are available in 7 different colours.
Eastpak Tranverz Suitcases
Eastpak Tranverz suitcases has been built with a double deck compartment design. The interior features 2 zipped compartments with garment straps to keep your clothing in place. Once closed use the compression straps to pack the Tranverz case down to the size of your belongings, these straps also add another layer of security. The front of the case features a zip pocket for additional items. there are 2 large wheels at the bottom of the case, with 2 padded, carry handles and a telescopic pull handle. Available in 20 different colours.
Eastpak Tranzshell Suitcases
The Tanzshell Suitcase has a special flexible shell that is virtually indestructible ensuring your belongings are properly protected. The case has 4 360 degree spinner wheels which rotate and roll smoothly. Carry handles a the top and side of the case with a push button telescopic handle for easy pulling. The main compartment is sealed with a durable double zip which can be padlocked. Available in colours Red, Black, Brize Pink and Tank Blue.
Click Here For Eastpak Spinners Prices & Availability