Bric's X Travel 2-Wheel 50cm Cabin Suitcase
An ultralight cabin suitcase crafted from nylon and leather trim this case is not only functional but extremely classy. The main compartment is lined and features built in packing straps along with external pockets. The front of the case has zipped pockets, 1 large and 1 small. There are 2 smooth moving wheels and 2 carry handles. Finally a push button telescopic handle finishes the case.
Click Here For Bric's Spinners Prices & Availability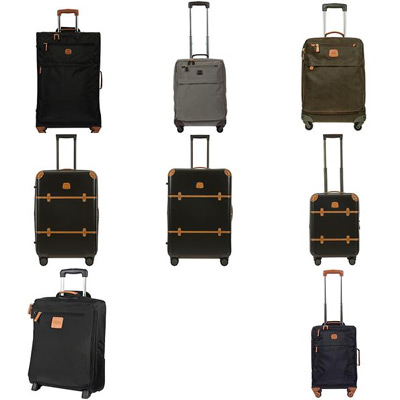 Bric's X Travel Cases
Bric's X Travel cases have been crafted from durable water resistant materials and finished with full grain tan leather trim, giving a unique and elegant design. There is leather on the push button telescopic handle, carry handles, zips and wheels. There are 4 wheels in total which all spin 360 degrees. The exterior of the case has a small zip pocket and a large zip pocket. The case is accessed via a 2 way zip inside are packing straps, internal zipped pockets and a large pocket on the inside door. All zips are lockable.
Bric's Bellagio Cases
Bric's Bellagio cases are hard sided, constructed from Makrolon a hard thermo plastic polymer, that's used in many day to day items and offers maximum durability with extremely lightweight properties. This hard wearing case is finished with full grain vegetable Tuscan Leather and gold studs for that Italian look and feel. The case is secured with a built in TSA lock and water resistant zip system. The interior is fully lined with a zip compartment and mesh pocket. There is also a bag hook that will accommodate 3 hangers. The wheels are Japanese Hinamoto double rubber with 360 degree smooth and silent movement. The wheels can also be replaced if you ever wear them out (which is unlikely due to the extremely high quality). The telescopic push button handle has 3 locking positions with press stud buttons, the carry handles are leather.
Bric's Life 4-Wheel Suitcases
The most luxurious cases in the Bric's range crafted from Suede Mustang stain resistant material which is very durable and water resistant. The Life case handles, zips and badge are finished with full grain vegetable Tuscan Leather, the case just screams 'made in Italy'. The main compartment is zipped and can be locked with the provided TSA lock. The main compartment is fully lined includes a large zip pocket and packing straps. The front of the case has a large pocket and a small pocket, both pockets are zipped. Four 360 degree wheels and a telescopic handle ensure smooth transportation, the handle can be covered with a zip closure when not in use. The case also includes a clear pouch for your liquids and a dust bag for storage.